Heroes of unity
Heroes of Unity empowers the public to co-create a portrait of the Bay Area immigrant community.
This is achieved through a fleet of nomadic art-engagement / printmaking laboratories that pop-up at events and festivals across Oakland.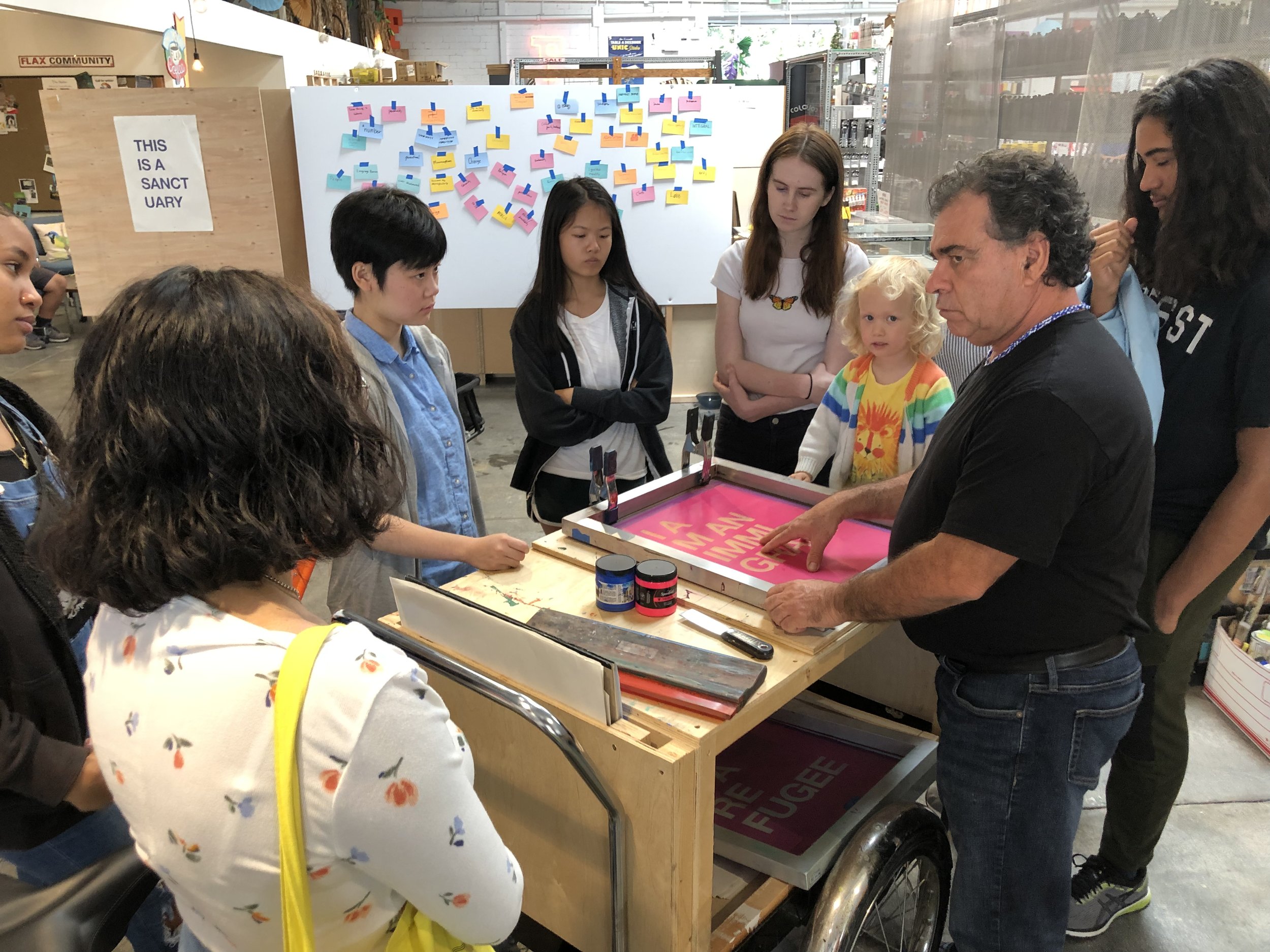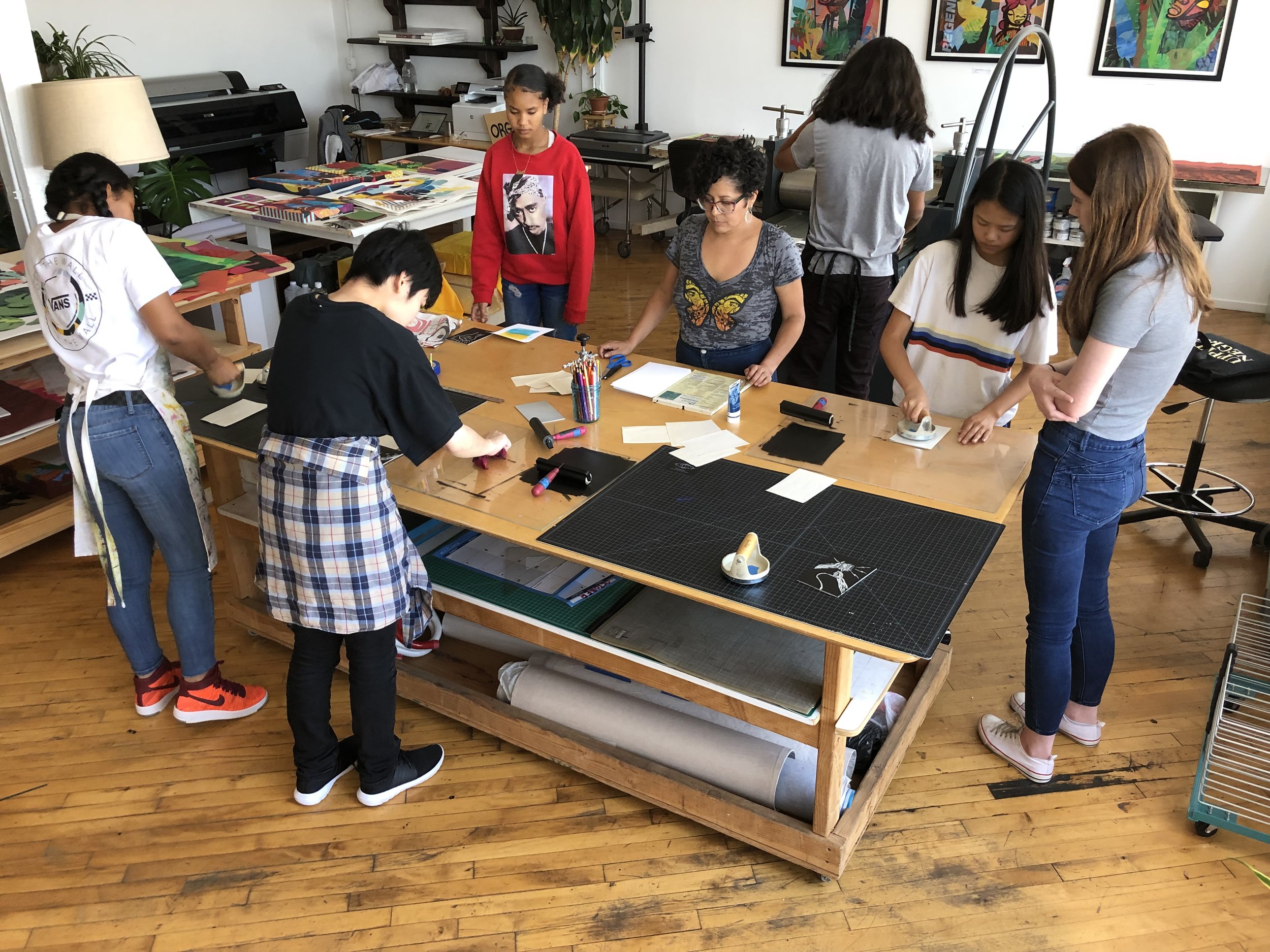 About Heroes of Unity:
Starting in July 2019, and continuing through the end of the year, Heroes of Unity utilizes a custom designed and fabricated fleet of mobile art laboratories as public workstations to record and share the images, words, and perspectives of the immigrants that constitute our local communities. These pop-up workstations are designed to be platforms for raising and making visible the public's voice as producers of content for public artwork. Through conversations and informal interviews during hands-on workshops, the audience shares their stories and create their images that later, through guidance by CAS, form the content of banners, silkscreens, bus shelter adds, poster campaigns, and billboards. In this way CAS and project leaders facilitate public expression, shaping the way histories and images enter the public sphere as public art. CAS does not create the art, but builds the platform for the public to create.
Collaborating artists include Julian Allen, Aisling Baus, Daria Belle, Sergio De La Torre, Makeda Booker, Sidney Brooder, Claudio Campechano, Fusako Chapman, Natalie (Mooka) Dharmapalan, Gonzalo Hidalgo, Justin Hoover, Lauren Granados, Lisa Koyama Max, Favianna Rodriguez, Chris Treggiari, Lynn Yaguchi, Jessica Wong. Special thanks to our strategic partners: Oakland Public Library, The Unity Council, and the Kenneth Rainin Foundation for their support and collaboration.
What: Heroes of Unity empowers the public to tell the story of an evolving city through participatory printmaking and public programming. We establish pop-up, participatory and public-art workstations to investigate and visually record the history of and contemporary face of our diverse city. We question the way that the race-line in America has shifted over the years, focusing both on the stories and faces of immigrants new and old as well as on the stories of citizens who experience race and immigration in meaningful ways. The program focuses on creating an "open-source" portrait of the diverse community of Oakland.Strategic partners include The Oakland Public Library and The Spanish Speaking Unity Council, as well as The Kenneth Rainin Foundation and Yuba Bikes.
How: Heroes of Unity uses a fleet of custom designed mobile print-making units built on industrial cargo bicycles. These units venture out into the community to collect and share stories and images from community members. The project occurs through participatory art making activities and temporary installations and the bikes are operated by professional artists and young adult apprentices ages 14-18. The mobile art labs will go to special events held at the multiple branches of the Oakland Public Library, at The Unity Council's Dia de los Muertos festival, the Oakland Art Murmur, and at other pop-up locations. In addition, work sessions and instruction with lead artist and apprentices occurs in the studio each week behind the scenes.
Success: We see success as creating a self-directed and self-propagating network of professional artists and young adult apprentices utilizing the project's platform and resources to create and archive stories and artwork about the struggles relating to race, identity, immigration, nationalism, and acculturation in the Bay Area over time and today.
Who: Participating artists include Lisa Beth Anderson, Sergio De La Torre, Gonzalo Hildago, Justin Hoover, Favianna Rodriguez, and Chris Treggiari. The project also employs 10 young adult mentees.
Where: Visit our home base at the Flax Building at 1501 Martin Luther King Jr Way, Oakland, CA 94612.
When: Visit Flax Building during general business hours. Check their website for details. And then visit us at these public events:
Pop-up Printmaking Events (hours to be determined so stay tuned):
End of Summer Festival: Saturday August 10, 2019, evening, at Oakland Public Library 81st Avenue Branch

Back to School Event: Friday, September 6, 2019, evening, at Oakland Public Library Main Branch

Oakland First Friday Art Murmur: Friday, October 4, 2019, evening, at location to be determined

The Unity Council Día de Los Muertos Annual Festival: November 2, 2019, at the Fruitvale Village, Oakland.
Images by Lisa Beth Anderson.