Public Art
Fernanda D'Agostino leads the CAS Public Art Team. Since 1991 D'Agostino has created public projects that range from light rail lines and community centers, to the creation of a migratory pollinators trail in Arizona and a viewing shelter on the shores of San Francisco Bay. Her final installations have been featured at major international airports, in hospitals, and throughout urban contexts. Her work is guided by deep research into the site, its people, history, and natural history. She has completed projects in cast and silkscreened glass, bronze, stainless steel, CorTen, stone and video. Fitting form, material, and content to the site in surprising ways characterizes Fernanda's work. Unusual collaborations are also a feature of her process.
Garden of Light and Shadow
Garden of Light and Shadow
Artist: Fernanda D'Agostino
2012
Photographically infused glass, glass mosaic, bronze, and video installation
Randal Children's Hospital, Portland, OR
Light and Shadow Play is a 80' x 250' therapeutic play garden near the children's cancer treatment center. The custom color light cones are topped with painted glass which creates shifting patterns of color on the walls of the cones. The cones are light cannons that also illuminate the Neonatal Intensive Care Unit on the floor below with splashes of colored light that move across the floor with the sun. A separate private respite garden adjoins the play garden with silk screened glass privacy screens. Water features, art glass panels, pergola structures, and plant and paving materials were chosen to create a place that refreshes and renews those who use it. Fernanda D'Agostino artist, (cones, privacy screens) Kim Isaacson ZGF Landscape Architecture
Celestial Navigations
Artist: Fernanda D'Agostino
2009
Glass and metal with day and night elements utilizing video projection
18-foot-tall (5.5 m)
International Boulevard plaza of SeaTac/Airport light rail station,
Seattle, WA
A sculpture of a navigational quadrant, the piece sits on a pedestal of rustic terrazzo and features a looping, hour-long video projected to the quadrant. This work was groundbreaking in its integration of permanent video projection systems into gritty outdoor urban spaces. Being site specific in this difficult space involved a range of challenges. Engineering an audiovisual system and software to run it robust enough to withstand weather, time and potential vandalism was the crucial "site specific" challenge that made the project possible. Custom engineered software monitors both the operation of the system and the climate in the projector housing. Celestial Navigations employs a day and night strategy on a major urban plaza linking SeaTac Airport's light rail station to the surrounding city. For this project I collaborated with project architects to design a plaza layout based on navigational maps used by both airline pilots and sailors. A major focal point that is has both day and night elements.
Garden of Strength
Artist: Fernanda D'Agostino
2008

This work was inspired by the diversity, and the rich cultural history, of the Mayfair area and by the spirit of growth and renewal embodied in the flourishing Mayfair Community Garden adjacent to the site, one of the City's oldest community gardens. Garden of Strength is comprised of three distinct artwork elements, Bienvenidos, Garden of Life, and The Three Sisters.

Bienvenidos is an installation of art glass windows with infused photographic images that form an archway in the Center's entrance. Garden of Life is a richly textured group of elements in the Center's tower and utilizes nichos to present a series of objects. The elements include a glass mosaic niche patterned in celestial designs; a bronze apricot branch with glass apricots; a timeline of Mayfair historic images on glass; and a video installation featuring images of local history and culture. The Three Sisters are three stone sculptures that depict the trilogy of squash, beans and corn, fundamental and sustaining food elements in many cultures.
Urban Hydrology
Artist: Fernanda D'Agostino
2009
Carved granite
Portland, OR
Urban Hydrology consists of twelve outdoor sculptures along the 6th Avenue transit mall in Portland, OR, between Hall and Mill Streets. The sculptures depict oversized diatoms—single-celled algae organisms found in water—in dialogue with the filtration of urban runoff water by the bioswales surrounding the works.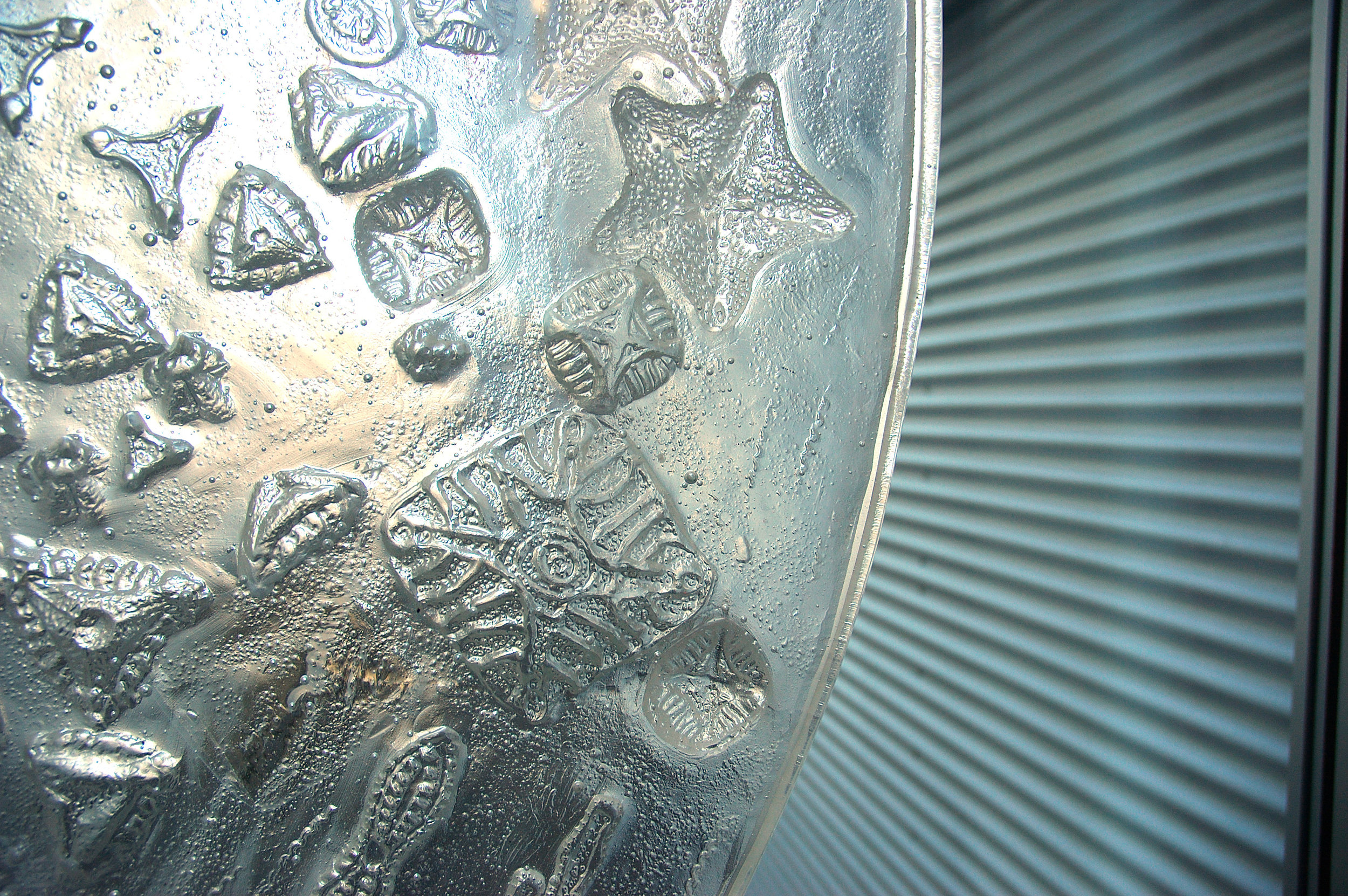 Message in a Bottle
Artist: Fernanda D'Agostino and Valerie Otani
King County Water Quality Lab
2004
Inspired by the gracefully shaped laboratory glassware, similar in shape to that of a classical amphora, the artists created two large-scale cast glass forms as the focal point of the project. The glass is mounted in bronze brackets, echoing the supports used throughout the lab. The face of each amphora is a flat, polished surface that viewers can peer into. The other side echoes the fully rounded form of the lab glass. Forms of microscopic indicator species and macro invertebrates are modeled on the convex side of the form.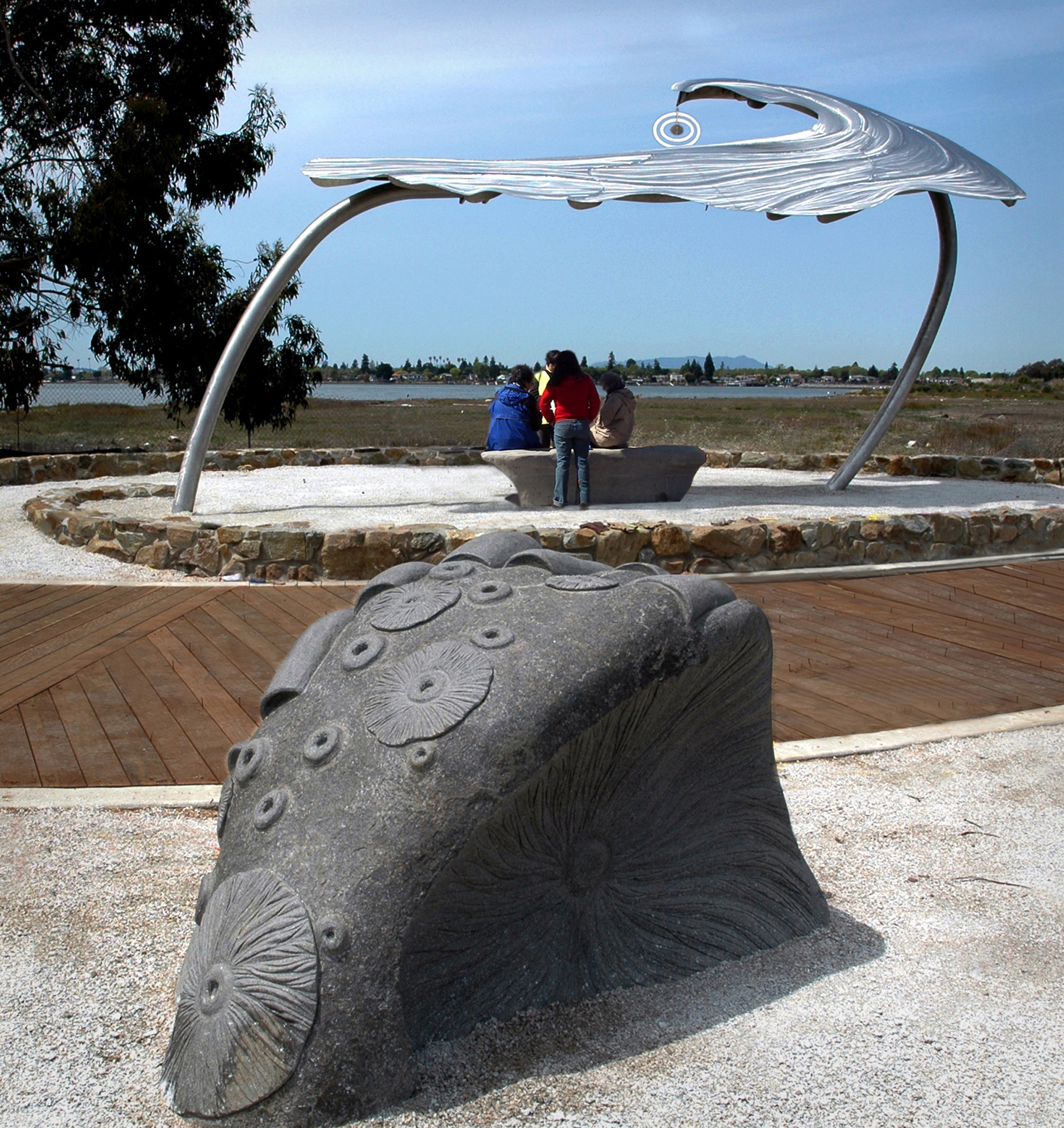 Fluid Dynamics
Artist: Fernanda D'Agostino (second artist Valerie Otani,)
2008
Carved stone sculptures and a stainless steel shade canopy sculpture
72' diameter landscape installation
A major public art project for the observation platform on the Oakland Estuary, the 66th Avenue project site is an important gateway to Oakland's waterfront, consisting of carved stone sculptures and a stainless steel shade canopy sculpture.
Fernanda D'Agostino & Valerie Otani, "Fluid Dynamics Overlook".
Our Process of Site
CAS delves into deep exploration of site-specific art, a notion that includes the surrounding community and other stake holders as part of the idea of site. The CAS public art team under Fernanda D'Agostino believes that the process of making the work is one of the most site-specific things about it. For CAS, this requires mining local systems of knowing-whether that means collaborating with a choreographer to explore a local landscape through video, working with a gleaners group to harvest a crop, or learning to use a sophisticated scientific imaging system to enable a collaboration with an academic researcher in another field. In past projects D'Agostino's permanent installations required collaboration across disciplines and often involve professions or individuals not normally considered allies. This leads to new levels of community engagement not only by the public but for the artist as well and through this process culture comes alive in a different way when communities are engaged in its creation. In this way, direct participation by members of the local society creates a deeper sense of ownership and community.